SPZ-B 1--20KHZ M.F induction heater
SPZ-15B/25B/35B/45B MF with transformer
(1) SPZ-15B ~SPZ-45B
(2) MF induction heating machine with transformer
(3) Output frequency: 5—20KHZ
(4) Capacitor and transformer together
SPZ-70B/90B/110B MF with transformer
(1) SPZ-70B~SPZ-110B
(2) MF induction heating machine with transformer
(3) Output frequency: 5—20KHZ
(4) Capacitor and transformer together
SPZ-160AB MF induction heating machine with transformer
(1) SPZ-160AB MF heating mahcine
(2) Input power 160KW
(3) Output frequency: 5—20KHZ
(4) With MF transformer
(5) Used for rod heating, sintering and melting in vacuum
1. Limit and disadvantage of SPZ machine without transformer:
Normal structure of SPZ machine is "generator + capacitor + coil",as diagram below: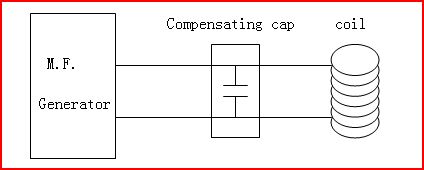 This is the most popular combination widely used now, for example, the M.F. forging furnace and melting furnace. Machine of this kind is simple, low cost, high efficiency. But there are also some limits and disadvantages of this combination:
(1) In this combination, the coil is large or long, usually 3 to 10 meters long copper tube is needed to turn the coil.
(2) There is 550V high voltage directly between the coil and is not safe. So to ensure the safety of the operator, the coil must be insulated properly.
(3) The maximum voltage between coil is 550V, this voltage will cause coil sparks in vacuum.

2. Advantages and disadvantages of SPZ with transformer
Structure of SPZ with transformer is "Generator + compensating cap + transformer + coil" , This combination is also used widely, for example, melting furnace in vacuum and medium frequency quenching and so on. This combination has a few main advantages:
(1) In this combination, Different output current and voltage can achieved through the changing of the ratio of the transformer to fit different applications.
(2) By different transformer ratio, coils can be very short with only a few turns only, and coil is much easy to make by users.
(3) In this combination, coil is isolated from the main circuit, so the coil is safe and need low insulation or no insulation;
(4) With transformer, the coil voltage can be lower than 300V to avoid coil spark in vacuum.
(5) Due to the adding of the transformer, the size and the cost of the whole heating system are raised, at the same time, transformer increases the energy consumption. The lower the frequency, the more the affection is.



Or: