Medium frequency generator
SPZ-240 medium frequency generator
(1) Model: SPZ-240 generator
(2) Maximum input power: 240KW
(3) Input: 380V three phase, 50 or 60HZ
(4) Output frequency: 1—20KHZ
(5) Used for melting and rod heating
SPZ-300 medium frequency generator
(1) Model: SPZ-300 generator
(2) Maximum input power: 300KW
(3) Input: 380V three phase, 50 or 60HZ
(4) Output frequency: 1—20KHZ
(5) Used for melting and rod heating
Main Models and specifications:

model

MAX.

input power

Output

frequency

Input

voltage

Auxiliary function

SPZ-15

15KW

1—20KHZ

380V 3P

50 or 60HZ

1. SPZ-XX A model has timer function, heating time and retaining time can be preset and controlled independently from 0.1 to 99.9 second.

2. SPZ-XX B model is used together with transformer;

SPZ-25

25KW

1—20KHZ

SPZ-35

35KW

1—20KHZ

SPZ-45

45KW

1—20KHZ

SPZ-70

70KW

1—20KHZ

SPZ-90

90KW

1—20KHZ

SPZ-110

110KW

1—20KHZ

SPZ-160

160KW

1—20KHZ

SPZ-240

240KW

1—20KHZ

SPZ-300

300KW

200HZ—20KHZ

SPZ-600

600KW

200HZ—20KHZ
Main applications:
Medium frequency machines are usually used in the penetration heating occasions, For example, (1)Rod heating for forging(2)Melting of almost all kinds of metals (3)Heating of stators or rotors for fitting (4)Heating of tube end for extrusion (5)Heating of moulds (6)Deep quenching of shafts and gears (7)Tempering or Preheating of weld-joint and etc.

Main Characteristics:
(1) In SPZ medium frequency machines,parallel oscillating structure is used . IGBT module power components and our fourth generation inverting control technologies are applied.
(2) Wide frequency ranges from 200HZ to 20KHZ, it is easy to match the machine according to the parts and heating desire.
(3) Due to the parallel oscillating structure, it is easy to get the best matching of the machine to get high heating efficiency and full power output of generator.
(4) Due to the high technologies of our fourth generation inverting control, soft and accurate switching control is realized to assure the high reliability and low repair of the machine.
Advantages and applications of models with Timer function:
1. Heating power, retaining power, heating time, retaining time can be preset and adjusted, this makes it possible to control the heating curve and heating time.
2. It is suitable to use in the repeated heating or high speed heating of small parts;
3. By presetting the timer and the power of the generator, retaining can be realized to a certain extent.

Main circuit of the SPZ medium frequency heating machine:
As said above, parallel oscillating structure is applied in our SPZ medium frequency heating systems. There are two kinds of combinations usually used now according to the different applications:

Combination 1:M.F. generator + compensating cap + coil
This is the most popular combination widely used now, for example, the M.F. forging furnace and melting furnace. Machine of this kind is simple, low cost, high efficiency.
In this combination, the coil is large or long, usually 3 to 10 meters long copper tube is needed to turn the coil. There is 550V high voltage directly between the coil and is not safe. So to ensure the safety of the operator, the coil must be insulated properly.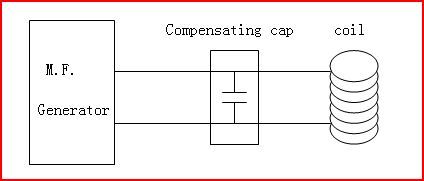 Combination 2:Generator + (compensating cap + transformer) + coil
This combination is also used widely, for example, melting furnace in vacuum and medium frequency quenching.
In this combination, Different output current and voltage can achieved through the changing of the ratio of the transformer to fit different applications.
In this combination, coil is isolated from the main circuit, so the coil is safe and need low insulation or no insulation.
Due to the adding of the transformer, the size and the cost of the whole heating system are raised, at the same time, transformer increases the energy consumption. The lower the frequency, the more the affection is.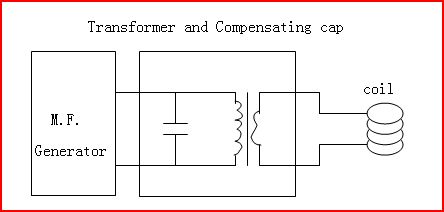 The Control theory of the Generator:
Inside the SPZ generators, IGBT module and our fourth generation inverting control technology has been used, that is the soft and dual control and inverting technology on the basis of parallel oscillating circuit. In this technology, output power and frequency can be controlled and adjusted separately, IGBT module and soft switching control technology are used in the high frequency switching circuit to control the output power. In the inverting circuit, the IGBT and frequency tracing circuit is applied to achieve high speed and accurate soft switching control. The adoption of new technologies not only improves the quality and reliability of the machine,but also solve the technology problem on large power induction heating machine and makes it possible to work 100% duty cycle.